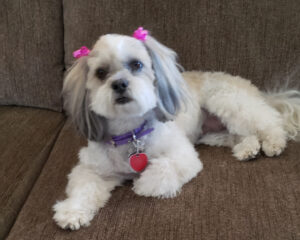 I love my little Lhasa Apso dog, Missy.  She is loyal, playful, loving (sometimes fierce), and always forgiving.  When I hold her, she'll give me butterfly kisses on my hands or my nose.  She watches me when I'm near and follows me when she can.  Last night, I had a hard time sleeping with back and leg pains. At about 2:00 am, I walked about the house trying to ease the pain.  When I sat on the couch, I saw Missy's little furry image walk quietly out of the darkness, jump up on the couch, and sit by my side.  As a pet, she is a joy and a blessing to me.  She is loved, sheltered, appreciated, and cared for in our family; and, she returns that love.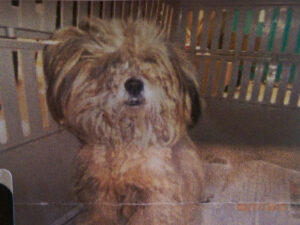 However, Missy's life hasn't always been this way.  She was a Rescue Dog.  She lived alone on an Indian Reservation in New Mexico.  For several years, she had no family to love her and she scavenged for food.  Eventually, she was captured by a local dog catcher and brought to the pound.  Her fur was long, matted, dirty, and mangy.  They cleaned her up, cut her hair with scissors, and temporarily named her "Frizz" …for obvious reasons.  They also gave her shots, spayed her, and gave her a microchip under her skin.  Ultimately, "Frizz" got into a regional pet rescue/adoption program and was sent to the Rescue Rovers Dog Adoption in Salt Lake City.  Oh, and her name was changed to "Bruin Hilda."
My daughter, Melissa, was instrumental in helping me find "Bruin Hilda."  At the time, I was trying to get over the tragic loss* of my dear Shih Tzu companion, Riley.  Melissa is "a doer."  She saw my grief and set about the task of helping me find relief.  One day she showed up and said, "come on Dad, we're going to find you a dog."  She was determined to find the right pet for me.  We considered a few dogs but decided to focus on a funny looking little Lhasa Apso dog with a strange name, an odd haircut, and a rat tail.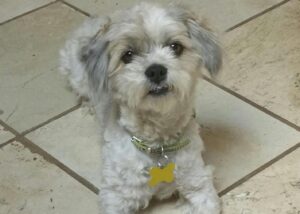 With Melissa (and my granddaughter Elyse), we visited Bruin Hilda's foster parents at their home and found they called the dog "Hildy," …much better than "Bruin Hilda."  Well, we watched her for a while; I held her; she bit me; but, I continued to hold her. Very soon, I knew she was the one.  So, we adopted Hildy.  But, we had to change her name.  I thought about it for a while.  Then, I asked Melissa's permission to call her "Missy" (the name Melissa grew up with, but rejected as an adult).  Melissa was pleased, and the name seemed appropriate since Melissa was so helpful in finding my new best friend.  So Frizz, who became Bruin Hilda, was now Missy …My Missy!
Missy has become a wonderful companion, as well as a loving and loyal family pet.  But, she's still a work in progress.  She tends to be overly protective of us and her territory.  We've had her to two "Animal Behaviorists" who agree that she's a good pet, but she has "socialization issues."  (Until Missy, I didn't know there was such a thing as an "Animal Behaviorist.")  Anyway, they've given us instructions for handling and resolving her behavioral issues.  Now, I've noticed she's getting better; but, she still can't go peacefully through a drive-thru at the bank, she doesn't trust strangers coming to our home, and she definitely doesn't like bicyclists nor motorcyclists.  She can be a piece of work, but I love her!  And, I should add, she is getting much better lately.
That's my Missy.  AKA: Frizz and Bruin Hilda (or just Hildy).
* Riley was my loving and loyal companion for several years.  We were inseparable, and everyone loved Riley, especially me!.  One terrible day as I was hauling hay to the horses, Riley saw my truck and came running to greet me.  I saw him running alongside the truck …but I did not see him cut under the truck to get on my side of the vehicle.  I only felt a bump and heard him screaming.  After much painful suffering (and my great sorrow), Riley passed away.  That was a dark day, a dark couple of weeks.  Riley was gone, and there was no one to blame but me.
---
Click HERE to return to "My Life with Animals."